"Joost Swart undoubtedly is the most interesting young pianist that came on the scene last few years" (Remco Takken, Dutch jazzcritic).
Joost, an outstanding improviser by nature, originally was trained as a classical pianist since the tender age of 8, but soon developed an interest for jazz and comtemporary music. After leaving highschool he immediately was admitted to the Conservatory of Groningen (The Netherlands), where during his study of jazz piano he was trained by the Dutch jazz elite, from Michiel Borstlap and Jasper van 't Hof, to Henk Meutgeert.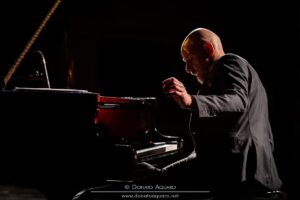 During his freshman year, Joost became founding member of the famous Francien van Tuinen Quintet. With this very talented Dutch jazz singer he recorded three original albums called "Tuindance" (1997), "Despina's Eye" (2000) and "A Perfect Blue Day" (2004) on which he was credited both as composer, arranger and pianist.
After intensively touring the big Dutch stages with Francien and playing 5 times at the North Sea Jazz Festival, Joost took off to New York City where he ended up playing all across town with the great late trumpet player Manny Duran (Dizzy Gillespie's Afro Jazz Orchestra). Highlights include performing at famous venues like "B.B. King's Club" on Times Square, and for a long time hosting the weekly Saturday night jam sessions in club 'Cleopatra's Needle' on Broadway, well known for its reputation as a hangout for jazz icons like Grady Tate, Steve Turre and Wynton Marsalis. During one of his gigs in New York, Joost drew the attention of alto saxophonist Vincent Herring who invited him to join his Quintet on a big European Tour in 2005, together with bassist Essiet Essiet and the great Jesse van Ruller on guitar.
Also in 2005 Joost released his highly anticipated debute album "Garnwerd Suite", performed by his own group "Joost Swart TETRA". The album received wide exposure in both national and international media, leading to numerous invitations to perform at jazz venues across Europe and establishing his name in the top of the international Jazz scene.
In 2008 Joost made a powerful addition to his discography with the release of the album "Symbiosis", critically acclaimed by national and international critics. On this album Joost is the soloist in a 14-piece band playing an extraordinary and beautiful composition by Claus Ogerman: "Symbiosis".
In 2010 a new trio was founded with Jeroen Vierdag on bass and Sebastiaan Kaptein on drums. The trio is called The Amsterdam Jazz Connection (A.J.C.) and is already an established name in Japan where they did numerous tours, and played from Okinawa to Tokyo and from Yokohama to Osaka. Their first release is recorded in the Alto café in Amsterdam with guest player Benjamin Herman. In 2014 a new studio album of the A.J.C. was released with special guest the rising young trumpet player Rik Mol who also joined the trio on one of their tours in Japan. In 2016 the trio invited singer Francien van Tuinen and guitarist Jesse van Ruller on their tour in Japan, and due to great succes together released the album "Broadway Serenade" in 2023.
Currently, besides being a highly in demand soloist in several established jazz groups like the Rik Mol Group, Ben van den Dungen Quartet, and the Tom Beek Quintet, Joost is working on a wide range of projects. Recent highlights include regular concerts among others with Ben van den Dungen, Benjamin Herman, Jesse van Ruller, John Engels, Hans Dulfer, Rick Margitza, Vincent Herring, Don Braden, Valery Ponomarev, Freddie Bryant and Ralph Peterson.